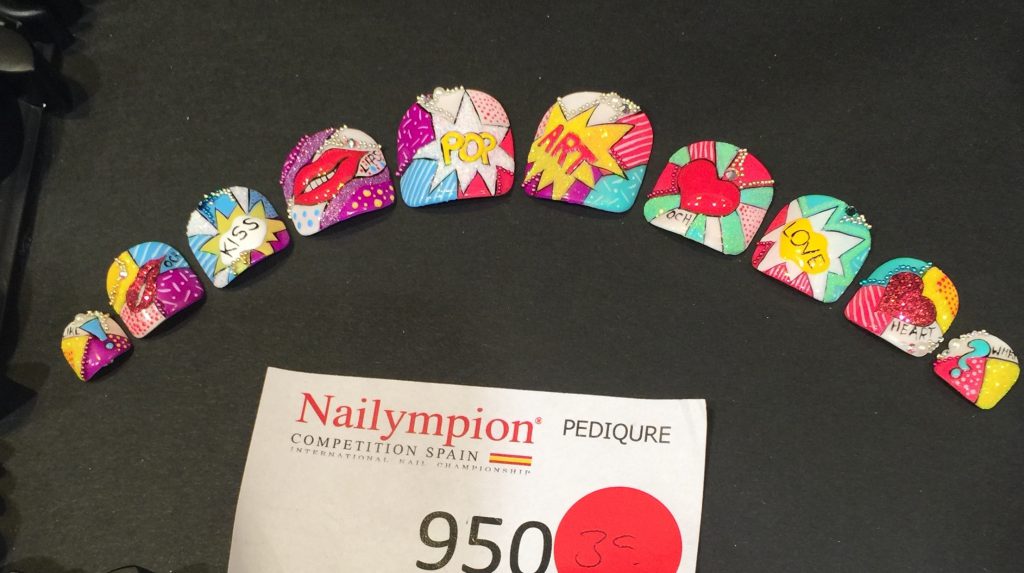 Rules
The artwork for this competition will be judged as a "salon trend". The judges expect to see artwork that you would see in the salon. It should not have a theme or have artwork that has murals or pictorial style artwork. The artwor should have design and current trends. The judges will maximize the score given if the artwork is too extreme for salon work. 
Salon trends pedicure tip art is a submission type competition.
The artwork is done prior to the competition and submitted at the time of the competition.
All entries may be submitted for any of the INJA and Nailympion competitions multiple times. Once the entree has taken 1st, 2nd or 3rd place in any division at any of the INJA and Nailympions competitions it can not longer be submitted. No repeat trophied entries from past years are allowed.
Pictures will be available from past competitions for judge's reference.
Nails are to be designed on nail tips and mounted and placed on a black board which allows nails to be seen and to be displayed in the competition area during the entire event.
All entries are to be 100% complete before bringing to the competition.
A full set of 10 toenail tips are to be created and must reflect different nail sizes, as real toenails do. Anyone using all one size tips will have an automatic 5 point deduction to their final score.
The tips must be displayed separately. Do not attach them together.
Maximum of 2 entries per competitor, each entry will incur a registration fee.
You must be present to enter the Competition.
All entries must be left at the competition until the close of the competition.
No entries left after the close of the competition will be returned. It is the competitors' responsibility to pick up their work at the designated time and place.
All entries must be submitted on the day of the competition at the designated time.
Competitors may use the following nail art media: airbrushing, acrylic, gel, painting (Micro art), Polish, soak off gel. Nail art embellishments such as Rhinestones, pearls, bullion, foils, and holograms may be used.
No decals or pre made art pieces such as machine made 3d art or Fimo shapes are allowed
All work created must be only that of the competitor submitting the artwork.
Every competitor must be ready to verbally explain how something was created, if asked by the judges.
Competitors may only submit their own work. All entrees may be questioned and the competitor asked to recreate a portion of the work submitted as proof.
All of the nail art applied to the actual tips, whether attached to the tip or not, will count & must not extend further than 1 cm. from the nail surface or 5 points will be deducted from the final score.
The artwork should reflex the popular trends and designs seen currently.
Total points is 90
---
Judges Instructions
Criteria is scored as a total scored.
All criteria points awarded are from 1-10.
Scores are determined by the judges educated opinion based on the specifics of each criteria.
---
Judges criteria
---
Level of Difficulty
The complexity of the design is evaluated on it's degree of expertise.
Is the art executed without any elaboration (simple) or is there more difficulty and expertise put into the making of the design.
---
Composition
How all the parts and pieces of your complete design are put together.
The design should flow from each nail so that the eye is drawn from nail to nail.
The nails individually represent the complete design.
---
Balance
The design should not be too busy or too sparse.
The art should look evenly balanced on each nail and from nail to nail.
There should not be large portions on the surface of the nail left without design.
---
Use of Color
The colors chosen should complement the design and flow throughout or graduate through all 10 nails.
The colors should complement while still showing contrast.
---
Graphic Quality
Are the graphics created with dimension or are they flat.
There should be dimension in the artwork.
---
Clarity of Design
Is the design apparent and identifiable?
Can you identify what you are looking at on each nail?
---
Originality
The theme or design should be something you have not seen before.
If seen before, done in a manner that is in a new creative and unusual use of art media.
---
Media
There must be a minimum of 3 art mediums used on every nail.
They should be incorporated into the design cohesively and used in a creative manner.
---
Overall Workmanship
Components should be painted entirely & smoothly.
The art work should not have any visual excess glue. All creations of nail art are cleanly finished.